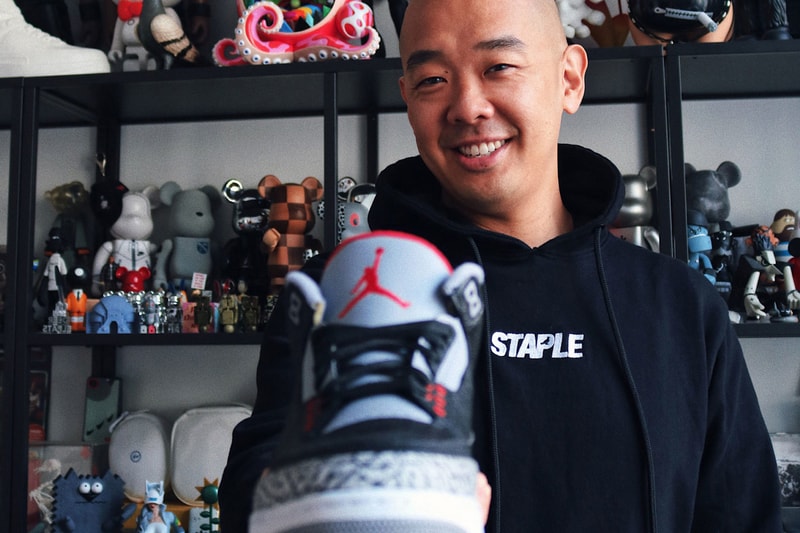 Sole Mates is a new HYPEBEAST series that asks, simply, "why do you love shoes?" Searching for a deeper meaning beyond hype, Sole Mates uncovers each subject's sneaker origin story, letting them wax poetic on why a particular shoe means so much to them.
---
Jeff Staple is a man who needs no introduction. A veteran of the footwear industry and frequent collaborative partner with the world's biggest sneaker brands, Staple is responsible for one of the most seminal Nike SBs ever — 2005's Nike SB Dunk Low "Pigeon" — and has brought his signature NYC-inspired ethos to sneakers from brands like New Balance and PUMA as well through his Staple Pigeon imprint.
But before all the collaborations, before exposing Nike's CO.JP line to the masses while working as the creative director of The Fader, before even really being a "sneakerhead" in modern parlance, Staple was a New Jersey teenager who was obsessed with sports. This love of athletics manifested itself into a love of athletic footwear, and no affection was more intense than the one Staple felt for Jordan Brand's Air Jordan 3, specifically the "Black Cement" colorway.
Though Staple was an avid tennis, basketball and football player as a youth, the Air Jordan 3 marked a turning point for him: it was the first time he saw the fashion aspect of sport sneakers. This lead to an Air Jordan obsession, which, according to Staple himself, very well may have lead to his prolific career and current position.
In the latest issue of Sole Mates, HYPEBEAST speaks with Jeff Staple about how the the influence and impact of his childhood passions served as his "art school," what happened the first time he wore the Air Jordan 3 to class — spoiler alert: he garnered a lot of attention — why he thinks the AJ3 is such an important "design object" and much more.
HYPEBEAST: Who or what got you into sneakers?
Jeff Staple: In general, it was sports. I was your average suburbanite kid who was into basketball, football, tennis. I'm gonna date myself here, but I grew up watching John McEnroe, Bo Jackson, Cecil Fielder. The Bad Boy Detroit Pistons were the NBA Champions then, and they were applying the Jordan Rules to Michael Jordan — he was sort of their arch nemesis, and they were trying to stop his greatness. The sports of that era were really inspiring to me, and I was buying sneakers to actually play sports in.
One of the first shoes I remember coveting was the Nike Air Trainer 1, because John McEnroe played in it. Michael Chang and his Reebok Pump, Andre Agassi and his Nike Air Tech Challenge II. Of course, Nike's "Bo Knows" campaign was amazing too, and you can't forget Mike and the Air Jordan 1.
At that time, there was no such thing as flossing shoes to look good in a mall. If you walked onto a court with minty kicks, it was honestly kind of corny back then. You wanted to show scuffs and actual usage. If you showed up to the pickup game in brand-new shoes, it was like "this guy sucks, his mommy just bought him these" [both laugh]. Isn't it funny how that's totally been flipped on its head now?
When the Air Jordan 3 debuted in 1988, did you have a pair or was it something you aspired to as a kid?
I had them. I was lucky enough to have Air Jordans since the Air Jordan 1 — multiple pairs, the "Bred," the "Royal." I played ball in them and destroyed them. They were still basketball shoes at that time, and to me they were like an evolution of a Nike Dunk High mixed with a Nike Air Force 1 High. I actually skipped the Air Jordan 2, because it was made in Italy and really expensive. (The Air Jordan 2 retailed for $100 USD in 1986, which, adjusted for inflation, is roughly $237 USD in 2020).
Then the Air Jordan 3 dropped. I vividly remember going to The Athlete's Foot at East Brunswick Mall in New Jersey, seeing them and being like "this is a whole different ballgame now." Back then it was a polarizing design. I really loved them immediately, and that, to me, was the moment that athletic shoes became a fashionably-designed product instead of purely sporting equipment.
What I really remember is the Nike Air hit on the heel tab, and how its embossed details were painted in white. That paint would just keep coming off, and if you weren't super careful — which I wasn't — it would chip pretty frequently. I'd have to get whiteout and painstakingly repaint the letters back on [laughs]. I'd never done that before, never had that care for shoes. Before the Air Jordan 3, I'd trash my shoes and dump them, but the AJ3 was the first one I felt like I needed to keep pristine.
Why does the Air Jordan 3 mean so much to you?
Because when I wore them to school, NOBODY had them and nobody understood 'em. It was literally a jaw-dropping moment when I came into sixth grade class wearing them for the first time. I was a little late to Mr. Olsen's Social Studies class, and I had pinrolled my pants and worn low-cut socks. I basically wanted as much attention on the shoe as possible, and made sure that not a single centimeter of it was covered. When I walked in like 10 minutes late, the whole class and Mr. Olsen looked at me … then in synchronicity, in harmony, looked down. I'd snapped 30 necks at the same time [both laugh]. That was definitely the highlight of my middle school career. It doesn't get any better than that.
Let's talk about the commercials around the Air Jordan 3 with Michael Jordan and Spike Lee as Mars Blackmon. Were those spots influential to you?
Dude, that sh*t was biblical to me! My friends and I would be on the school bus just talking about the commercials. Between Mike palming Mars' head and the other stuff like the famous Wings poster, I was fully into it. I had all the posters, was even a member of the Jordan Flight Club. They sold me, man [laughs]. I had a Jordan hang tag as my key chain, one on my backpack too.
Quite frankly, those moments informed my career. Later in life, I got to meet John C. Jay of Wieden+Kennedy (the creative agency responsible for many of the early Jordan Brand ads), and he was like "I can't believe you had those posters on your bedroom wall. I could tell you were a student of the game from what you created with Staple Design." Air Jordan stuff was my early art school.
Since almost every basketball shoe in the late '80s was a high-top, was the ⅝ cut of the Air Jordan 3 as impactful back then as, say, when Kobe Bryant switched his signature shoes to low-tops on the Nike Kobe 4 in 2009?
Yeah, that was definitely a huge part of it. Apart from the lower cut it was the heel tab, the paneling, the elephant print on the heel and toe. It's hard for me to articulate how special-feeling the tongue was too. Most sport shoe tongues before the Air Jordan 3 would have a small label with the logo woven on it, dating back to the Pro-Keds era. Now, all of a sudden you have this massive tongue with an embroidered Jumpman — no label, no words. On the other side of the tongue, the upside-down Air Jordan wordmark. The design decisions that were made were clearly very deliberate, and you definitely felt the hand of Michael Jordan and Tinker Hatfield.
Let's circle back around to what we talked about earlier, performance shoes being designed and used strictly for athletic activity without an eye towards casual wear. The first time that the relationship between basketball and fashion was directly acknowledged was on the PUMA Clyde, but do you think that the Air Jordan 3 was the first time Nike intentionally leaned into fashion with a basketball shoe?
It's hard to know what they were thinking internally. I'm sure there was a lot of risk in putting the shoe out because of the vast shift in its design language. Just as much as the Air Jordan 3 became legendary and an instant classic, it could have been a complete flop too. They took a gamble, and sneakerheads around the world have gotta respect them for putting their cojones on the table and saying "we back this product and believe in it, even if some people won't get it."
Do you like any of the Air Jordan 3's new colorways or collaborations?
For the most part, I'm not a fan. I hardly ever cop any of them. I don't know why I'm a purist, but when I put them on I just don't get the same feeling. I did cop the Air Jordan 3 "Black Cement" retro in 2018, but not to wear — I wanted it to have on my shelf as a design object, much in the same way I like KAWS figures, BE@RBRICKs and Michael Lau dolls.
As far as collaborations or exclusives go, I smile when I see something like the Oregon PEs or Hiroshi Fujiwara's fragment design pair, but I think there's nothing that can touch the purity of the styles from the '80s. I know that makes me sound like an old curmudgeon [laughs].
It's no secret that new Air Jordans haven't really been able to replicate that level of classic timelessness as the old school models. I can't help but think that when part of the design team's energy is dedicated to what to retro and how often, that affects the new models.
What do sneakers and the stories they hold mean to you personally, and why do you think those stories are so important to the culture at large?
The stories are everything. At the end of the day, if you brought a Martian from outer space in and explained the difference between a Louis Vuitton T-shirt from Virgil Abloh and a plain Uniqlo T-shirt, the alien would not understand why one cost $700 USD while the other one was 1/100th of that price. Without the context, it's like "they're both made of cotton, they're both constructed the same way." If you closed your eyes, you wouldn't be able to tell the difference.
In many ways, shoes are the same. If you closed your eyes and put on something from Costco and a Nike, you wouldn't really be able to tell the difference. They're really all commodity items made of leather, nubuck, rubber and plastic. Yes, you can argue that there's Air, there's BOOST, there's GEL, whatever, but that's just the seasoning on top of what's essentially a standard model.
Therefore, the only thing that really differentiates the two — and I don't say this to downplay the tech side — is the storytelling: who created it, why it was made, who it was made for. I was talking to my friend Hasan Minhaj, and he said that when he did his Daily Show interview, when he did the White House Correspondents' Dinner, when he got married, he wears Cole Haan. That's his lucky shoe, and there's just something about it. He wouldn't feel comfy doing what he did in anything else. That's exactly why these stories are important.
Click here to view full gallery at HYPEBEAST